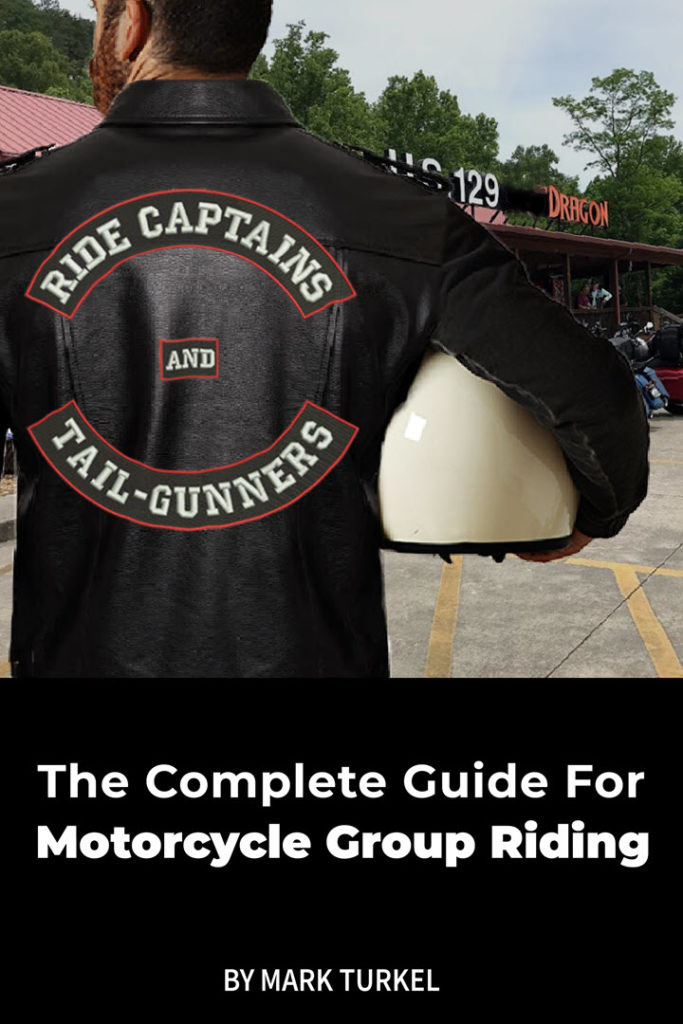 Ride Captains and Tail-Gunners
The Complete Guide for Safe and Fun Motorcycle Group Riding
Motorcycles are fun, and even more fun with friends! Riding in a group is pretty awesome, but there's also a bunch of "unwritten" rules of the road when it comes to motorcycle safety when you participate in a group ride.
Group riding is a topic not widely discussed in most motorcycle books. Even the state licensing manuals only have a few short paragraphs about group riding, This book fills in the missing information riders should know about  in order to ride safely in a group, and have a fun, stress-free experience.
Ride Captains and Tail-Gunners covers all of the "how and why" questions that most motorcyclists have about group riding. 
Written by Mark Turkel, avid motorcyclist, former safety officer, and currently a ride captain in a club with over 400 riders, Mark brings a unique perspective to group riding.
"It is important that everyone participating in a group ride understand the group riding safety rules, and knowing "why" we do the things we do make for a smoother ride in which everyone can be safe and enjoy the day."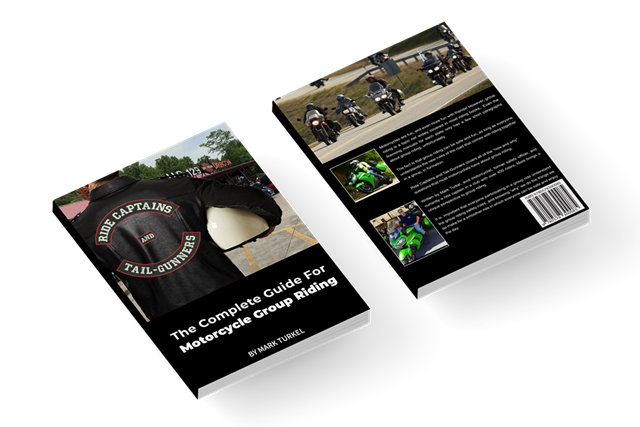 Ride Captain, Former Safety Officer, Former Tail-Gunner with a history of excellent leadership and safety.
I have been riding in groups for over 15 years now. Since my first group ride, I  couldn't find any books that were  dedicated to "Group Riding". I had a bunch of questions, and didn't know why we did things one way as opposed to another.
Fast forward 15 years or so, I'm now a Ride Captain and Former Safety Officer for that same group I started with! And now I wrote this book for all of us, and I really hope you and your group ride just a little better after you read it. 
There's lots of books about how to ride (when you're alone), but not too much information to be found in regard to group riding. My own experiences and personal knowledge come together for this easy-to-read book that will benefit all riders in the group. If everyone understands why we do things in a certain way than we all are riding that much safer. We come home happy. And that's a great day!
Welcome to Motorcycle Group Riding!
Riding in a group has always been a "special" kind of ride. No matter where you are in the group, leading, tailing, or somewhere in the middle, the sights, sounds, smells, and the feeling you get riding in a group is amazing! Riding with good friends brings motorcycling to a new level.
I hope everyone in your group reads this book. You won't believe how great your group can be on the road once everyone understands "why".
Hi Mark, We just posted my review--great work on a subject that really needed a great resource and you've done it! Rider's Library—Ride Captains and Tail-gunners (review), Ultimate Motorcycling, Dec., 2021

https://ultimatemotorcycling.com/2021/12/15/ride-captains-and-tail-gunners-book-review-riders-library/

Feel free to post, share, re-distribute the link to the review.
I got the books. They turned out great! I am excited to share with my riding friends at SENA.
Mark, thank you so much for getting those out so quickly and I gave you a 5 star rating as I do believe the knowledge in there warrants that rating. You and I have been at this game for about the same amount of time and it's nice to have something for people to actually read what many times is forgotten. I plan to encourage the Red Knights to purchase at least one book for each chapter out there as I feel our entire organization can benefit from this.
Just ordered a copy. I'm the lead RC of my chapter. I wrote our chapters group ride handbook. Hoping to gain more insight in this book.
Great book for everyone who will be riding in an organized group and a great refresher for those who are already group riding. Also great information for any rider who wants to imporve their knowledge and riding skills.
Got my copy, excellent and prompt delivery!! Great book, well written with lots of good tips and techniques. Recommend for all riders, especially if you group ride!!
Get a special limited, autographed copy of Ride Captains and Tail-Gunners
Limited time – buy now and get a signed copy of Ride Captains and Tail-Gunners!