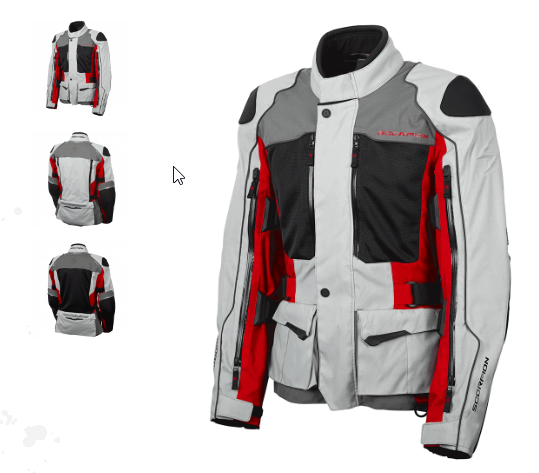 Sometimes the holidays come early!  I live in South Florida, and the temperature may change by as much as 25 degrees or more from morning to afternoon in the Winter season. So I needed a lighter-than-leather jacket for the Winter season. (My leather jacket is nice, but with armor and padding it is HEAVY!) It needed to be textile, waterproof, warm in cold weather, and cool in warm weather.  Since I live in South Florida where there are way too many elderly drivers that shouldn't be driving, I wanted a seriously visible jacket, too.
Here's the list of features from the Scorpion website:
500D nylon main body fabric and heavy duty 1680D on elbows & shoulders
Reinforced Exo-Stitch® safety stitching on all critical seams
Armored with removable large Sas-Tec® body protection systems
Shoulder, Elbows included. Optional Back protector
Ample use of NightViz® reflectiveon front and rear of torso, arms and elbows for increased nighttime visibility
Large vents on torso, arms and back can be opened for extreme ventilation when needed
Removable H2O Blok® waterproof liner
Removable full sleeve EverHeat® thermal linerfor a wide range of temperatures
Five external pockets, two internal pockets
Forearm, bicep, waist and wrist adjustment straps for optimal fit
Wrist Gaiterwith Thumb Hole
8" jacket to pant zipper
3 Year Warranty
The ScorpionEXO EXO Yosemite XDR Jacket checks off every box, and then some! As with all Scorpion products I've owned over the years, the quality of "everything" did not disappoint, in fact, I would go as far as to say the quality-per-dollar of Scorpion products are definitely in the top 5 in my book at least.
Let's start out with the inside… the rain liner is a "wind breaker" full jacket. You can wear it without the over-jacket after you get off the bike. This holds the quilted liner, which is easily removable with easy zippers on each side. With all the layers, I was quickly very warm in my 75 degree A/C! The inner liner has a "Wrist Gaiter" thumbhole to make it easy to get the jacket on, and keeps the warm all the way to your gloves.
So a big check mark for "warm". That's great.  Now to cool off…
WOW! The amount of cooling zippers are simply amazing. All the external zippers are rubber-coated. Water should not leak in at all, but I haven't been caught in a downpour yet. The zippers open up to a mesh with holes in it like a sports-jersey, and lets the air in easily.  The arms have a 2 zipper system to let you adjust how much or little you want in, and it also comes with 2 separate Velcro straps to take up the slack while you're riding. I've never seen such large inlets in any jacket before and it is most visible in the black jacket picture, as the rubberized zippers are shiny.
Looking at the front, there are two long zippers from chest to stomach. They open to expose removable waterproof, fold-down pockets. That was another nice surprise. The pockets will block a lot of air, but still allow enough in to keep you cool, but folding them down brings us closer and closer to a decent warm-weather option.
The main zipper is also rubberized, but well protected behind a waterproof flap that is held shut with Velcro. The zipper has a nice large handle on it too, shouldn't be a problem at all working with winter gloves on. There are more Velcro straps around the torso to further tweak the fit of the jacket. All well-done, no loose threads, etc. and this will not rip off. Finally, rounding out the front of the jacket are 2 large pockets below the waist adjustments that are also waterproof, and have large, easy to open Velcro flaps.
There's lots of reflective color that catches light well. Combined with the day-glo and red accent versions of the jacket, you will be seen!
When you flip the jacket over, there's more zippered vents on the sides, but the big surprise is the huge back panel that rolls down and stows away in a cleverly designed pocket with Velcro closure to open the entire back to a mesh jacket!
The other Scorpion features that I noticed in their helmets was carried over as well. Just like the plush interior of their full face helmets, the same creature-comforts are added to the jacket. The collar is quilted and they use a really nice non-abrasive material here, and it is a tall collare to stop rain from dripping down your back. There's a nice neoprene-type lip all around the top of the collar for comfort.
The jacket fits true to size.  I'm 5'10, 210lbs, and a fairly athletic build (with a little belly, I'm 57 now), and the XL Short fit me perfectly with all the liners in.  I was able to zip without holding my gut in, and it is comfortable around the shoulders as I'm riding.  I ride a Kawasaki Concours 14 sport tourer, which is a sporty bike but with an upright seating position and a slight lean forward.
I will upgrade the back padding to the optional CE2 armor, but it is not necessary – there's nice padding already there.
In summary – I was a little hesitant to buy the jacket, but so glad I did! I normally wear a sport bike jacket, but the looks on this are very sporty as well, and the wife likes it! OK, can't argue with the wife, right?  I would highly recommend this jacket, and I know it will last a long time.  I always get my investment back PLUS with Scorpion gear, and if you're looking for a good quality jacket, you won't be disappointed with the ScorpionEXO EXO Yosemite XDR Jacket
Sometimes the holidays come early! I live in South Florida, and the temperature may change by as much as 25 degrees or more from morning to afternoon in the Winter season. So I needed a lighter-than-leather jacket for the Winter season. (My leather jacket is nice, but with armor and padding it is HEAVY!) It
Ride Captain, Former Safety Officer, Former Tail-Gunner with a history of excellent leadership and safety.
I have been riding in groups for over 15 years now. Since my first group ride, I  couldn't find any books that were  dedicated to "Group Riding". I had a bunch of questions, and didn't know why we did things one way as opposed to another.
I hope everyone in your group reads this book. You won't believe how great your group can be on the road once everyone understands "why".